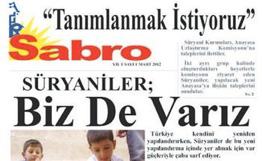 A new monthly Turkish-Syriac journal, "Sabro" ("Hope"), will hit the shelves this week, marking the first time in the history of the Turkish Republic that a Syriac Christian newspaper will enter circulation.
"As Syriacs, we also maintain hopes about the future in Turkey, and thus we named our newspaper 'Sabro,'" the journal's chief editor, Tuma Çelik, told the Hürriyet Daily News.
Çelik also said he could not learn the Syriac language due to Turkey's policies toward its minorities. Turkish society is not sufficiently familiar with the Syriac community, and the general discourse in the country makes it seem as if the ongoing problems regarding the Mor Gabriel Monastery in the southeastern province of Mardin constitute the community's sole problem, he added.
"For that reason, we placed a greater emphasis on [using] Turkish. We are both going to inform our people about their culture while [providing them] with news and inform the people of Turkey about Syriacs and their problems," he said.
Sabro will be based in Mardin's Midyat district, the historical homeland of Syriac Christians. The paper will also maintain offices in Istanbul and the southeastern provinces of Hakkari and Şırnak, according to Çelik, who said the 25,000-strong population of Syriacs in Turkey was predominantly concentrated in Istanbul.
The paper, which will become a weekly journal in the months following its initial launch, will also feature the writings of Turkish, Armenian and Greek intellectuals.
"Syriacs always lived in the countryside. We had much difficulty getting our voice heard despite the many critical problems [we] experienced," Çelik said.
Many Syriac Christians emigrated to Europe in three separate waves, the biggest of which was in the 1960s, due to the outbreak of political turmoil in their historical homelands.
"We could not [uphold] our intelligentsia until they left for Europe. Syriacs educated in Europe have begun to return in the past six years and bring our problems to the fore," he said.
Sabro will initially be distributed in the Simurg and Medya bookstores in Istanbul's Taksim neighborhood, the Anatolia Culture and Research Association (AKADER) in Ankara and Antalya, as well as the Virgin Mary Syriac Church in Diyarbakır, but there are plans to subsequently expand distribution to other cities.
Donations and advertisements will constitute the chief income streams for the journal.
Source: Hurriyet Daily News