A Voice from the Christian East
PARC, in collaboration with  the " Christians of the East",  is proud to present the Lebanese religious singer Joumana Mdawar in a celestial concert celebrating the month of Virgin Mary on May 30th at 7:30pm in The Cathedral of The Blessed Sacrament, Downtown Sacramento, California.
Open for all – $30 $20 $10 $5 (kids) Donations to PARC & the Organizers of this Event Are Appreciated.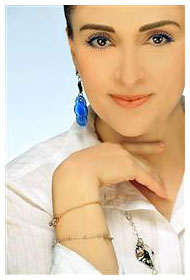 Being the youngest in a family of five, Joumana Mdawar was born in Zouk, Lebanon. At her beginnings, she started singing religious carols and hymns in "St. Charbel" church, Adonis and "Notre Dame de Secours" church, Zouk.
Joumana is a graduate of Musicology from "University of St. Esprit" Kaslik, Lebanon. Currently, she is an instructor of solfege and theory at the "USEK" for many years ago and previously she was a member of the university choir. The film "Litakoun Mashi'atouk" in year 2000 was the debut of her professional singing career with the composer Joseph F. Khalife.
"Haloumi Ya Jamilati" was the first video clip released in year 2000 after the film "Litakoun Mashi'atouk" followed by another 14 local religious video clips, in addition to three international ones shot abroad; "Edith Stein", "Therese of Lisieux" and "Elizabeth of the Trinity".
Joumana participated in the Beatification of "St. Naamtallah El Hardini" Rome, Italy and also in the Canonization of "St.Rafqa", "St.Naamtallah El Hardini" as well as the beatification of "Abouna Yaaqoub" and "Brother Estephan" in Lebanon. In 1997, Joumana had a special performance in the presence of the Pope Jean-Paul II. Moreover, her dedication to the church led her to be fully active during the 77 days visit of "St. Therese of Lisieux" relic to Lebanon in year 2002 and then to Iraq.
Joumana performs an average of 50 concerts per year in Lebanon as well as several international concerts abroad in France, Italy, Switzerland, Greece, Canada, United States of America, Nigeria, Syria, Jordan, Egypt, Kuwait, Abu Dhabi, Dubai, Qatar, Iraq, Bahrain, Australia and Brazil. She released many musical albums in the local and international markets. The lyrics were for various writers however the music is all composed by Mr. Joseph F. Khalife.
Joumana received many local and international awards such as the following:
· Pope Jean-Paul II Decoration Award.
· Saiid Akl Award.
"Not one moment in Joumana's life has passed without singing and worshiping Jesus, it is her primary interest and joy".
Also A Fundraising Dinner will be held in Mrs Joumana's Mdawar honor  just after the Concert at 9,30 pm