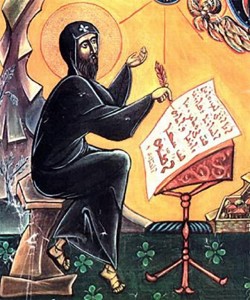 Born in Nisibis in the early fourth century, and because of the cruel persecution that was raging at that time, he moved to Edessa where he died in June 373. The Hermit of Edessa or the Holy Deacon is revered in the Greek, Russian, Jacobite, Chaldean, Coptic and Armenian churches. Some of those churches celebrate his feast on February 1rst, but in the Maronite Syriac Antiochian church, his feast is celebrated in January 28.
According to Sozomen, Ephrem wrote 3,000,000 verses! The Syriac original was the discovery of a precious collection of manuscripts in the Nitrian monastery of Our Lady in Egypt, by the Maronite Gabriel Eva (Hawwa) in (1706-07) and especially Joseph Simeon Assemani in (1716-17). The monumental Syriac edition, of the works of St. Ephrem, was finally edited in Rome in (1732-46) in six folio volumes, it was the result of labor of love from three native Lebanese eminent Maronite scholars: Joseph Simeon Assemani, Peter Mobarak (Benedict), and Stephanus Evodius (Awwad) Assemani.
Our goal at PARC is to remain faithful to our Aramaic-Syriac heritage, and encourage scholarship in St Ephrem (Iphramiat), the "Sun of the Syriacs", the "Pillar and Doctor of the Church", and the "Harp of the Holy Spirit".
https://st-takla.org/Lyrics-Spiritual-Songs/01-Coptic-Taraneem-Kalemat_Alef/Anty-El-Folk-Ya-Mariam.html